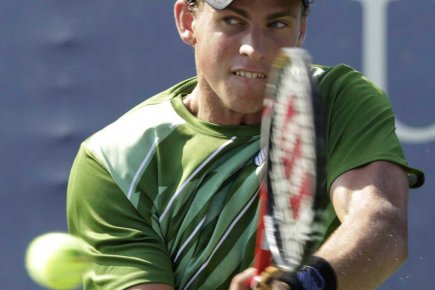 This is one of the most unpredictable young players in the tour. His 2011 campaign has moments of brilliance, overachievement, disappointment and anything and everything in between.
His junior career was good but not great. He did nothing of significance in the Grand Slams, yet his career high was in the top 25. He started 2011 ranked at 336 in the world after a 2010 season where he made little progress. After a roller-coaster year, Pospisil closed 2011 at the doorstep of the top 100 and being one of the early favorites to become the Newcomer of the Year in 2012.
Breaking down his 2011 season, one can find that the Canadian giant played all over the world with some mind boggling results. Pospisil lost early in several futures tournaments while completely dominating others.
At the same time, he reached the semi-finals twice and the quarter-finals 7 times at the Challenger level. Moreover, he qualified for the U.S.Open and advanced to R2 after defeating Lukas Rosol. He also qualified into the St.Petersburg and Valencia ATP tournaments at the end of the season. The cherry on top was his performance in Davis Cup, where he won both of his rubbers to get Canada into the World Group.
Pospisil defeated players like Dudi Sela, John Isner and Juan Ignacio Chela. He also played Roger Federer and Feliciano Lopez very tough. Although he closed the year with early losses at the Challenger level, those wins previously mentioned show that he belongs at the top. I see Pospisil cracking the top 60 by the end of the year. I don't predict a meteoric rise like that of fellow Canadian Milos Raonic, but Pospisil and his 6'4 frame will be very dangerous in the tour in 2012.