Here is a quick recap of the action last week:
*ARGENTINA F4: 25-year old Argentine Martin Alund built on his SF apperance last and took the title over up and coming 92-born compatriot Diego Schwartzman 64 61. The more experienced Alund dropped only 2 sets en route the final. In the SFs, Alund managed to beat Facundo Arguello ('92), arguable the hottest name in Argentina's new crop of players. Schwartzman advanced to the final after beating No. 2 seed veteran Juan Pablo Amado, but couldn't replicate that showing against Alund. '93-born Juan Ignacio Londero stopped a 6 match losing streak and advanced to R2 before losing to Arguello.
*BOSNIA F1: '91-born Croatian Toni Androic prevailed over Czech Jiri Skoloudik to claim his first crown of the year with a 64 62 score. The 19-year old had to fight off a very pesky Tomislav Brkic ('90/BOS) before winning the third set tiebreaker. It was almost a dream final for Croatians, as the more-heralded Dino Marcan ('91 and former ITF No.24) advanced to the SFs before being wiped out by Skoloudik. '92-born Antonio Lupieri (CRO) and Victor Baluda (RUS) also had solid weeks, both advancing to the QFs.
CREDIT: ITF Tennis
*BRAZIL F12: 25-year old Brazilian Tiago Lopes left behind a 5-match losing streak and took the first title of the season in his third final attempt. He defeated Czech Republic's Roman Vogeli and retirement, who has now lost consecutive finals in Brazilian territory, by a score of 75 31. The crowd didn't get the chance to get a taste of the future of Brazilian tennis, as young guns Guilherme Clezar ('91) and Bruno Semenzato ('92) were both knocked out in the semis. '94-born (current and ITF No.12) Thiago Moura Monteiro advanced to R2 before losing to the eventual champion. Moreover, '91-born Chilean Javier Munoz managed a QF appearance.
*BULGARIA F1: Frenchman Alex Michon ('90) won his first future tournament of the year as he defeated local Tihomir Grozdanov 67 63 61 in the final. Michon will vault to a career high ranking at around No.400 when the points from this tournament are included. The Frenchman defeated Miljan Zekic of Serbia while Grozdanov took care of No.2 seed Adrian Cruciat in the other SF. Austrian Gibril Diarra ('90) earned his first ATP point.
*GREAT BRTIAN F6: Mathieu Rodrigues of France continued his very impressive 2011 campaign by taking the title in the UK, defeating Romanian Catalin Gard 60 64 in the final. Rodrigues dropped no sets en route to the final, while Gard had multiple 3 setters, including his SF match against No.1 seed Charles Brezac. '93-born and ITF. No.4 Oliver Golding made a surprising run to the QFs before losing to Gard. Fellow Brit young-guns James Marsalek ('92), Lloyd Glasspool ('93, first ATP point) and Liam Broady ('94) all obtained 1 point thanks to R1 wins.
CREDIT: Le Blog du TC Bressuire
*ITALY F8: No.1 seed Jonathan Dasnieres de Vegy took advantage of his experience to beat Colombian qualifier Cristian Rodriguez ('90) 63 61 to claim his first futures title of the year. Rodriguez, in turn, faced no seeded players en route to the finals, but discarded Japanese youngsters Shuichi Sekiguchi ('91) and Yasutaka Uchiyama ('92) in the QFs and R2 respectively. Rodriguez, who trains in Italy, had been having a very unsuccessful 2011, but managed his first main draw win in early April and now achieved his best showing ever. Italian Mateo Civarolo ('92), who last week obtained his first ever ATP point, advanced to the QFs, defeating the more heralded and higher ranked countryman Alessandro Colella ('92/former ITF No.17) in R2.
*KAZAKHSTAN F2: In a very surprising final, '92-born and former ITF star Federico Gaio (ITA) took the title over unseeded Japanese Takuto Niki ('87). Gaio built on a SF appearance the week before on his way to winning the silverware, but had to come back from a set down to eventually close it at 06 64 62. It was a very productive week for younger players, as Russians Stanislav Vovk ('91) and Alexander Rumyantsev ('92) advanced to the SFs, and fellow countryman Mikhail Biryukov ('92) to the QFs. '93-born Denis Yevseyev (KAZ) and Leonard Stakhovsky (UKR) also advanced to the QFs. '94-born local Alexey Nesterov earned his first ever ATP point.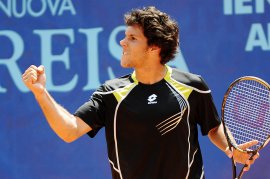 CREDIT: www.livetennis.it
*SPAIN F14: In a battle of youngsters, Portugese No.1 seed Joao Sousa ('89) won the title defeating '93-born Japanese (but who lives and trains in Spain) Taro Daniel 63 61 in the final. This tournament featured a very low ranking cut and 10 unranked players in the main draw. The beneficiaries were Brazilian Pedro Sakamoto ('93) and Spaniard Oriol Roca-Batalla ('93) who both achieved R1 wins.
*SWEDEN F1: 24-year old Ervin Eleskovic kept the silverware at home by defeating Canadian Erik Chvojka ('91) 76 61 in the final. Elekovic shocked No.1 seed French giant Josselyn Ouanna in the SFs, while Chvojka took care of German young-gun Kevin Krawietz ('92 and former ITF No.8). French up and coming stars Gianni Mina ('92) and Julien Obry ('91) managed to advance to the QFs before losing to the more experienced Ouanna. Former ITF year-end No.1 Daniel Berta ('92/SWE) lost in R1 to No.2 seed Timo Nieminen of Finland. Berta has struggled mightily since turning pro and is hoping that these tournaments at home will boost his ranking and confidence.
*TURKEY F16: In a class of 1990 battle, No.7 seed Riccardo Sinicropi (ITA) defeated No.5 seed Alexandre Folie (BEL) 62 57 64 in the final to take the title. Sinicropi, already sitting at a career high ranking of 620 will break into the top 600 when these points are entered into the system. The Italian beat Moldavian Andrei Ciumac, while Folie fought long and hard to defeat Czech Michal Schmid. '92-born Swiss duo Claude Benz and Henri Laaksonen (former ITF No.20) both advanced to R2 before being eliminated.
*USA F11: Mexican futures veteran Daniel Garza advanced to his second consecutive final in American soil but had to retire at 1-1, allowing Gerald Melzer ('90) to take the title. Both finalists survived 3 setter semi-finals, but the No.5 seeded Austrian (def. Michael Ryderstedt) had a little more left in the tank than the Mexican No.6 seed (def. Robbyie Poole). It was a solid week for American tennis, as a few of their youngest players were able to obtain some points. '93-born Dennis Novikov advanced to the QFs, as did '92-born Daniel Kosakowski. Alexios Halebian ('94) and Ty Trombetta ('90) made it to R2, along with Spencer Newman ('93), who obtained his first ever ATP point. The Aussies made a little bit of noise too, as '91-born giant Mark Verryth advanced to the QFs and 34-year old qualifier David McNamara (career high 431 in 2002) made it R2 before being embarrassed by the eventual champion.
*VENEZUELA F2: Another week, another title for rising Venezuelan star David Souto. In a battle of two of South America's finest class of 1992 prospects, Souto defeated Peruvian Duilio Beretta 62 63 to earned his second consecutive crown in his home soil. Both players had rugged SFs, as it took them 3 sets each to beat Roberto Quiroz ('92/ECU) and Denez Lukacs ('87/HUN). It was a very good week for the young guns, as Mauricio Astorga ('91/MEX) and Ricardo Rodriguez ('93/VEN) both made the QFs. Rodriguez, who had been training and playing in Spain since the end of last year, took out No.2 seed Patricio Heras ('89/ARG) before being eliminated by Lukacs.
CREDIT: www.noticiaaldia.com